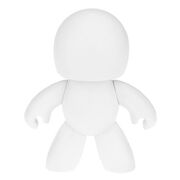 Along with all the Mighty Muggs of licensed characters, Hasbro also sells blank Mighty Muggs on their website. Blanks are generally for people to create their own customized Mighty Muggs.
Overview
Edit
Blank Mighty Muggs are fairly simple with not design. They are just on solid color.
Hasbro has released blank Mighty Muggs in black and white. No information about other colors to be released is known. The white blank Mighty Mugg (entitled blank white on the box) appears to be much shinier than the black colored blank (entitled blank black on the box).
Accessories
Edit
Blank Mighty Muggs comes with no accessories.