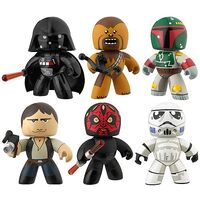 Star Wars Mighty Muggs are a line of Mighty Muggs action figures produced by Hasbro in 2008. Featuring stylized classic Star Wars characters in the super deformed style, these six-inch toys straddle the line between Urban Vinyl and block figures.
Muggs:
---

The first wave included:
Darth Vader
Chewbacca
Boba Fett
Han Solo
Darth Maul
Stormtrooper
The second wave includes:
C3PO
Obi-Wan kenobi
Mace Windu
Luke Skywalker
The third wave includes:
Jango Fett
Lando Calrissian
Princess Leia
Clone Commander Cody
The fourth wave includes:
Yoda
General Grievous
Emperor Palpatine
Luke Skywalker (Bespin)
The fifth wave includes:
Anakin Skywalker
Count Dooku
Asajj Ventress
Captain Rex
The sixth wave includes:
Darth Vader ( Maskless)
Grand Moff Tarkin
Han Solo (Hoth)
Plo Koon
The seventh wave includes:
Darth Maul (shirtless)
Darth Revan
Exclusives
Edit
At SDCC 2008, a Commander Gree figure was released. In September, there will be two previews exclusives, Admiral Ackbar and a Shadow Stormtrooper.